This week has been quite an eventful one at the Hopster HQ with the launch of our first ever TV App. Yes, we're now available on Freetime by Freesat!
AND AND, with other deals in the pipeline, we're endeavouring to bring Hopster to more than 1 Million Households.
But in this blog post, I don't want to inundate you with any more 'news'. I just want to share a quick tip to improve the experience for the cool cats that use Hopster.

This morning, just like most mornings, I woke up to find a zillion notifications on my phone. I usually do not dare to check them before I am ready to leave the comforts of my house. But this morning was different. With my landlord's dog by my bed side, I had enough courage to take on The Hulk (that might be a bit of an overstatement, but you know the feeling). The first thing I checked were my work emails. I was pleasantly surprised to find that we had one more FIVE STAR review on the Appstore.
Obviously, it feels great to be a part of something that is appreciated. Dave, we're so glad that your son loves Hopster.
The last two points from the review, however, left an itch that just wouldn't go until I had written this blog. Yes, it was indeed a sad goodbye to the Gruffalo. 😦 And, as a matter of fact, you can surely AirPlay Hopster to Apple TV!*This is how you do it on the latest version of iOS:
Make sure your Apple TV is connected to your television and that it is turned on.
Also ensure that your Apple TV and your iOS device are connected to the same Wi-Fi network
While watching your favourite show on Hopster on your iOS device, swipe up from the bottom of the screen to bring up the Control Center
Tap on 'AirPlay' at the bottom of the panel
Select 'Apple TV' and make sure you switch on 'Mirroring' (flick the switch right below 'Apple TV' in this menu)
Voilà! That's it!! You can now enjoy all the amazing shows on your TV, thanks to AirPlay!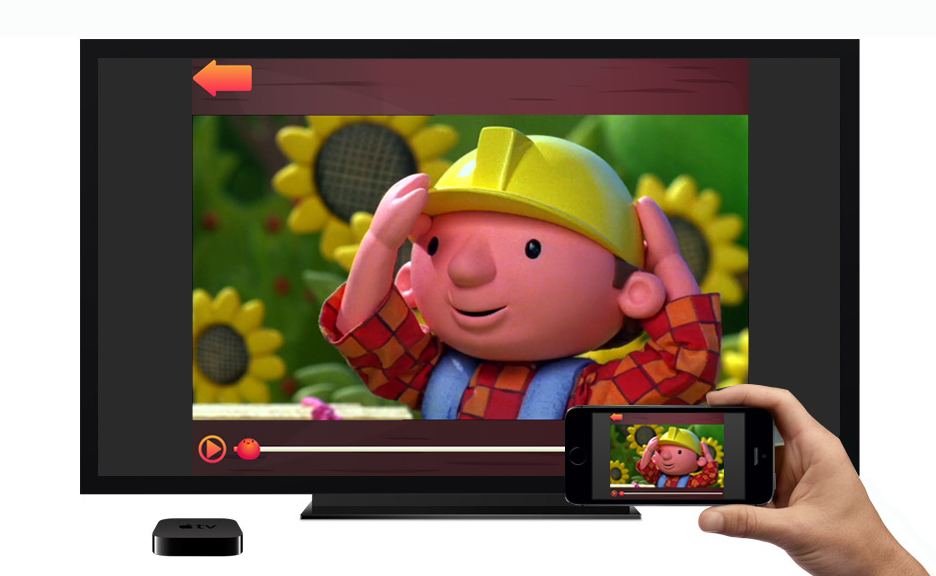 That's it from the Product Team at Hopster for today!
I guess I can now peacefully go back home, take my dog out for a walk, call it a day and snug in.
Bye!
*AirPlay system requirements
AirPlay requires an iOS device running iOS 4.3 or later, a Mac device running iTunes 10.2 or later, or an Apple TV second-generation or later. Some features require the latest software.
Peer-to-peer AirPlay requires a Mac device (2012 or later) running OS X 10.10 or an iOS device (2012 or later) running iOS 8 and an Apple TV third-generation rev A (model A1469) running Apple TV software 7.0.
Mirroring is available with iPhone 4s or later; iPad 2 or later; iPad mini; iPod touch (5th generation); and iMac (Mid 2011 or newer), Mac mini (Mid 2011 or newer), MacBook Air (Mid 2011 or newer), MacBook Pro (Early 2011 or newer) and Mac Pro (Late 2013) with OS X Mountain Lion or later.
Dual-screen capability is available with iPhone 4s or later, iPad 2 or later, iPad mini and iPod touch (5th generation).